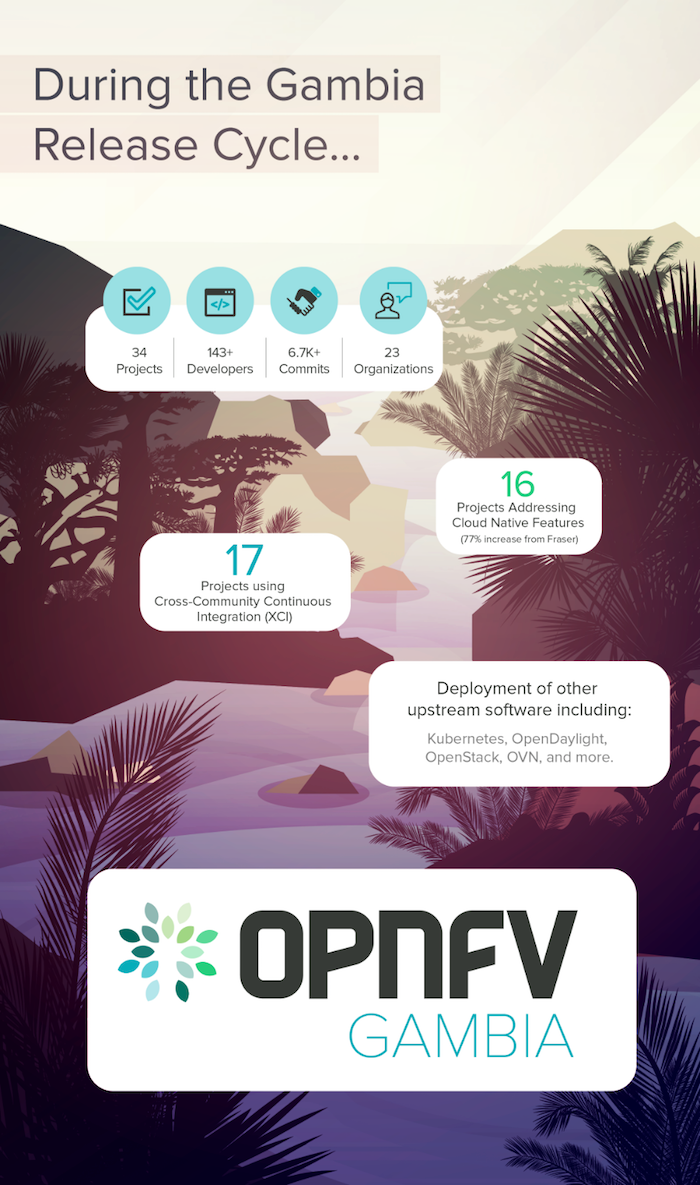 Author: Tim Irnich, former TSC Chair
Today, the OPNFV community is pleased to announce the availability of Gambia, our seventh platform release! I am extremely proud of the way the community rallied together to make this happen and provide the industry with another integrated reference platform for accelerating their NFV deployments.
At a high level, Gambia represents our first step towards continuous delivery (CD) and deepens our work in cloud native, while also advancing our core capabilities in testing and integration, and the development of carrier-grade features by working upstream. As an open source pioneer in NFV, it's amazing to see the evolution of the project to meet the needs of a quickly changing technology landscape.
Here are a few Gambia highlights I'd like to share:
Cloud Native & Continuous Deployment (CD)
A key topic at the recent ONS Europe, cloud native is quickly becoming increasingly relevant for the networking industry. The Gambia release builds up the cloud native progress made in Fraser, with seven more projects supporting containers (a 77% increase), and new scenarios integrating cloud native features such as Virtlet, Kata containers, VPP and OVS-DPDK. Deployment and lifecycle management of OpenStack became easier with two OPNFV installers now supporting a containerized OpenStack control plane. As containers continue to bring tangible benefits to developers and end users in the networking space, we'll continue to explore this exciting space.
Continuing the momentum first started in 2016 with the Cross-Community Continuous Integration (XCI) initiative, we're introducing a CD process that allows OPNFV to continuously publish scenario and feature project artifacts that contain the latest upstream code. In fact, 17 OPNFV projects are now participating in XCI, and we're seeing increased adoption of CD by upstreams like OpenDaylight, OpenStack, and FD,io, which also increases the code quality on the master branch. We're also integrating Spinnaker via the OPNFV Clover project, providing a new mechanism for upgrading VNFs in a production. Devs can access the CD process by integrating with the XCI initiative, or  via the TripleO installer from the APEX project.
Testing, Carrier-Grade Features, and Working Upstream
Testing projects have always been at the heart of OPNFV, and Gambia advances testing sophistication further with additional test cases, additional test support for K8s-based scenarios, and new features. Functest is now able to run on a production-deployed NFVI/VIM instead of just dev/test, providing real-life functional testing data critical to users. On the performance side, Yardstick adds 6 new network services and the Bottlenecks project now supports k8s. This additional flexibility and availability of new features covers a broader range of testing environments and provides more options and insights to users. Another core concept of OPNFV is "Upstream First" and OPNFV Gambia integrates the latest stable releases from our upstream communities — OpenStack Queens, OpenDaylight Oxygen/Fluorine and Kubernetes 1.7.0 to 1.12.2 — into a platform that's ready for downloading and testing in lab environments.  
What's Ahead
For those attending KubeCon CloundNativeCon North America in Seattle, December 10-13, we welcome you to join us for an LF Networking reception onsite [insert time / location] as we look to build bridges with the CNCF community and look for areas of collaboration. There will be light food, beer & wine, and lighting talks from the LFN projects. Also look for the LFN booth.
Coming off the co-located OPNFV Fraser plugfest with ETSI in June (read the report here), OPNFV will co-locating with the ONAP for the ONAP DDF & OPNFV Plugfest [insert link], January 8-11, 2019, at the Nokia in Nozay, France. Come test on OPNFV Gambia and work side by side with the ONAP community on the many integration areas between projects. Stay tuned for the OPNFV Casablanca release in a couple weeks with news on the OPNFV Verification Program.
At ONS Europe, the OPNFV community performed a live keynote demo of a virtual central office highlighting the ability highlighting the ability to deliver mobile services based on 5G network infrastructure. This generated significant interest in the community and planning for next version (VCO Demo 3.0) is now underway. If you'd like to be part of these discussions, please join the mailing list.
Signing Off
After a year on duty I've now finished my term as the OPNFV TSC Chair. This has been a tremendously rewarding experience and I'm proud off all we were able to accomplish. I'd like to sincerely thank the old and new TSC members, the Linux Foundation staff and the entire OPNFV community for their support. Congratulations to the new TSC Chair, Bin Hu from AT&T who has been a part of OPNFV from the start and is a tremendous asset to the community. So, I'm leaving you in good hands and will continue to be an active community participant. Onward to Hunter!