As an open source project, participation in OPNFV is open to all, whether you are an employee of a member company or just passionate about network transformation. The best way to evaluate, learn, contribute, and influence the direction of the project is to participate.
End Users
OPNFV's 10th release, Jerma, culminates over six years of development effort, integration, and testing; supporting CNTT's evolution, and advancing testing, benchmarking, and service assurance for the industry. Learn more about Jerma and get the software and documentation.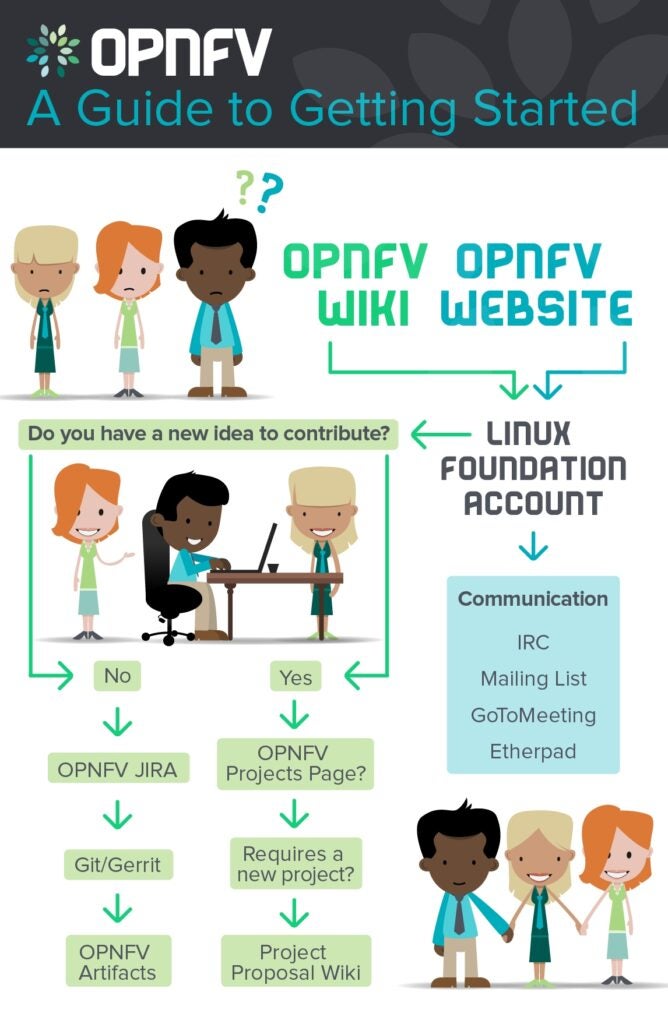 Developers
Start on the OPNFV Wiki and get a sense of the approved OPNFV projects in motion. Next, sign up for OPNFV mailing lists, attend project calls and the regular TSC meetings.
In order to gain access to the developer tools supporting OPNFV, you must first create a Linux Foundation account. Once your registration is complete, visit the tools page where you will find links to all of the developer tools available and check out these OPNFV tutorial videos. You can also find developer resources on the getting started wiki page and developer onboarding materials here. We hope that you will contribute code, file JIRA tickets, or review other's work and help us make this a platform that fills the needs of the broader industry. The Linux Foundation account will also enable you to get on-demand infrastructure resources to try out OPNFV or develop on it through our Lab-as-a-Service offering.
Lastly, Open Source Networking User Groups (OSN User Groups) are popping up around the world and are a great way to start working with OPNFV. Learn more.
Membership
OPNFV is a project within LF Networking ("LFN"). Learn more about membership.
General
Have a question about OPNFV? Please let us know and we'll get back to you shortly.