Read the full 2017 OPNFV Year in Review report here.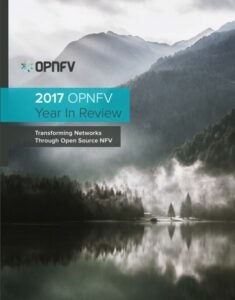 It is with gratitude and pleasure that I look back on our accomplishments of 2017 and with excitement for the future as I look ahead to our path as part of LF Networking in 2018. We have come such a long way together since our founding over three years ago and this moment of transition marks a great opportunity to reflect on our impact.
Starting with the unique mission to do systems integration as an open source project, we have become the engine room for integration, testing, and automation, and new NFV feature validation across the open source development ecosystem. What I am most proud of is the strong and collaborative relationships we have built with our key upstream partners, from OpenStack to OpenDaylight to Kubernetes, to data plane and acceleration groups like FD.io and DPDK, to hardware partners like Open Compute Project. 2017 also saw us incorporating MANO and analytics capabilities with ONAP, Open Baton, PNDA, and Calipso.
This work would not be possible without our extraordinary community and its welcoming global culture. This year saw two productive plugfests, hosted by Orange and Intel, the continuing growth of the XCI initiative, our Danube and Euphrates releases, and an extraordinary OPNFV Summit hosted in Beijing. We presented at Open Source Leadership Summit, ONS, China SDN/NFV, OpenStack, Light Reading's Big Communications Event, and CableLabs Summer conference. We built our first ever community demo showing an integrated stack for the Virtual Central Office, and are about to launch our long-awaited OPNFV Verified Program.
Most importantly, we made friends, we shared beers, we debated, we worked to make our community more inclusive, we solved technical problems, and we reached out to forge ties across multiple communities. As we look forward to being part of LF Networking this year, I know that we will bring this spirit of working together to help all our networking projects bring value and change the world in 2018. Let's go collaborate!
In the interim, I encourage you to download the full OPNFV 2017 Year in Review report for a more holistic look at what we've accomplished this past year.