By Tapio Tallgren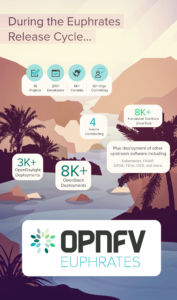 Three years after its founding, OPNFV has carved out a solid niche in the industry as an NFV center of gravity, as an integrator of upstream projects, and as the standard software testing platform. OPNFV Euphrates, the project's fifth platform release, demonstrates the hard work and industry collaboration of the vibrant OPNFV community that continues to advance open source NFV through containers, improved testing, new features, and deep community collaboration.
The journey towards container integration is one of the biggest changes coming to NFV, and Euphrates begins to take these steps for OPNFV. The way I tell NFV history is that it started by moving network elements to virtual machines (VMs). Then integration of the cloud infrastructure removed the need to know exactly where the VM was running, and enabled more automation. However, the network elements (Virtualized Network Functions or VNFs) have evolved to remove the dependencies on emulating hardware. Thus, the software can now run in containers, which are much lighter than VMs. This in turn enables new innovations that will change the actual software architecture since the overhead of a container is so small, each process can be broken out into its own container. The innovation opportunity that containers create for open source networking is profound.
Improved testing seems to be a recurring highlight of each OPNFV release and the integration and testing effort has made significant progress in providing an extensive set of tools to test the NFV cloud, VNFs, and complete network services. New projects—including Sample VNF, which provides testing of the VIM/NFVI layer with applications approximating real-life application workloads; and NFVBench, which provides an end-to-end dataplane benchmarking framework—have been introduced. Additionally, existing test projects have continued to evolve with new features, capabilities, and test cases.
OPNFV also continues to develop carrier grade features for the industry as shown by the new Calipso project which provides operational visibility into complex virtual networks. Euphrates also includes performance improvements, better security, and additional choice in the stack.
One of the most important attributes of OPNFV is integration and collaboration. To demonstrate how OPNFV collaborates with upstream projects, OPNFV has introduced the cross-community continuous integration initiative, or "XCI." This takes the latest and greatest software releases from different upstream communities, tests them in the OPNFV setup, and provides feedback to the community—quickly. Thus, an OpenStack developer can find out if a patch she is about to create will make something break when integrated with the latest OpenDaylight release, running on a platform with the VPP virtual switch from the FD.io project, for example. (Learn more about the XCI initiative in this recent blog post from key members of the OPNFV community.)
Looking ahead, planning is already underway for the next release—OPNFV Fraser (named for the Fraser river in British Columbia, Canada) and the projects that will be part of it are already signing up! And we're holding our fourth OPNFV Plugfest in the early December to test and try to break the Euphrates release with different hardware setups, and to give the OPNFV project members a chance to plan the work ahead. I invite you to join us in Portland, Oregon.
As a further sign of OPNFV's maturity, the OPNFV Compliance and Verification (CVP) is now under beta testing. CVP will help enhance interoperability, build the market for OPNFV-based infrastructure and applications designed to run on that infrastructure, while reducing adoption risks and testing costs for end users.
All of these improvements to the OPNFV platform have (and do require) required tremendous effort from across the community. Please see the section below to hear what Euphrates means to some of our core upstream communities. I would like to take this opportunity to thank everyone involved in OPNFV for contributing to the Euphrates release, and beyond!
Comments From Upstream Communities
FD.io
"In addition to participation in XCI efforts, OPNFV Euphrates leverages the latest enhancements from FD.io 17.04, and performs continuous integration against the upcoming 17.10 master branch. VPP supports IP multicasting, Enhanced NAT, security groups, IOAM, LISP, and scalable packet filtering, in addition to numerous other features," said Ed Warnicke, FD.io Technical Steering Committee chair and distinguished consulting engineer in the Chief Technology and Architecture Office (CTAO) at Cisco Systems. "OPNFV Euphrates also takes advantage of FD.io's strong performance gains in Layer 3 performance."
Kubernetes
"It's exciting to see Kubernetes and cloud native technology being adopted into the NFV space," said Chris Aniszczyk, chief operating officer, Cloud Native Computing Foundation. "For example, OPNFV Euphrates introduces the notion of containerized VNFs which will enhance performance, while also supporting OPNFV's evolving DevOps processes."
OpenBaton
"With Euphrates, OPNFV makes an additional important step towards a more comprehensive reference platform for accelerating the adoption of NFV and SDN technologies," said Giuseppe Carella, project manager, Open Baton and OPNFV Orchestra project project technical lead. "We are proud of having introduced the first OPNFV scenario integrating a full MANO stack provided by the Open Baton project, leveraging the JOID installer. Moreover, functest has been extended for validating such integration using vIMS VNF packages available on the Open Baton marketplace."
OpenStack
"The strong collaboration between the OpenStack and OPNFV communities delivers greater agility, performance and value for carriers and service providers building next-generation open networking stacks," said Jonathan Bryce, executive director of the OpenStack Foundation. "OPNFV's Euphrates release supports containerized OpenStack via the Kolla project, and it gives users the improved performance and functionality found in OpenStack's 15th release, Ocata. Euphrates is proof that when open source communities work together, users win."
OpenDaylight
"OpenDaylight continues to integrate closely with OPNFV," said Phil Robb, vice president of Operations, Networking & Orchestration, The Linux Foundation, and executive director, OpenDaylight. "As an upstream contributor to OPNFV Euphrates, ODL Carbon and Nitrogen bring enhanced stability, performance, security and network programmability features to the open source networking stack."