First posted on Linux.com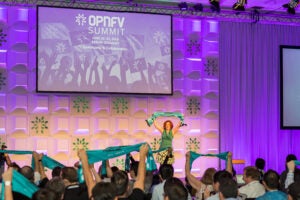 The countdown to this year's OPNFV Summit is on! We're headed to Beijing June 12-15 for four days of connecting global communities via tutorials, sessions, demos and keynotes targeted toward a diverse set of industry attendees. The largest gathering of OPNFV developers and community members from across the globe, OPNFV Summit is an ​annual ​conference ​to ​collaborate, ​innovate ​and ​explore ​the ​latest ​developments in open source Network Functions Virtualization (NFV). OPNFV is The Linux Foundation's open source project for integrated testing of the full, next-generation networking stack. Will you join us?
With just a few weeks to go, we are pleased to announce our preliminary lineup of expert keynote speakers ready to share their insights and perspectives along the NFV journey.
The keynote presentations will cover a wide range of topics, including:
Accelerating the maturity and adoption of NFV
Turning networks to meet the needs of global communities
Deployment experience of vEPC in commercial networks
Cloudification of the telco network
Here are a few of the industry leaders participating as keynote speakers/panelists:
Heather Kirksey, Director, OPNFV
Zhang Fan, Chief Architect of Packet Core, ZTE
John Healy, VP, Data Center Group, GM, Datacenter Network Solutions Group, Intel
Susan James, Head of Product Line NFV Infrastructure, Ericsson
Forrest Lee, OPNFV Open Source Development Team Director, Huawei
Prodip Sen, CTO of NFV, HPE
Lingli Deng, Principal Engineer, China Mobile Research Institute
Chongfeng Xie, Director, IP and Future Network Research Center, CTBR
Eric Debeau, Head of R&D Team, Orange
Wei Leping, China SDN/NFV Alliance
Along with our featured keynote presentations, this year's event will feature a diverse set of more than 65 presentations and demos spanning session tracks that include: Community and Upstream; Futures and Research; NFV Applications and Orchestration; NFV Platform Requirements; NFV Strategy and End User Stories; and Testing, Infrastructure and DevOps. You can view the full Summit agenda, including keynotes, breakout sessions, and demos, here: http://events.linuxfoundation.org/events/opnfv-summit/program/schedule
OPNFV Summit also includes a handful of co-located events, including those hosted by some of our upstream communities. Included in this year's line-up are: OPNFV Orientation, Sunday, June 11; The OPNFV Developer Design Forum, Monday & Tuesday, June 12-13; ONAP Mini-Summit, Monday, June 12;  OpenDaylight Mini-Summit, June 12; CNCF Day at OPNFV, Tuesday, June 13; FD.io and DPDK Mini-Summit, Tuesday, June 13;  OpenStack Upstream Institute, Wednesday & Thursday, June 14-15;  and the Open-NFP Developer Conference, Monday, June 12; and more.
OPNFV Summit 2017 will be here in just a few weeks! Make your plans to join us now.
To register for the OPNFV Summit — including information on traveling, accomodations, and visas — please visit http://events.linuxfoundation.org/events/opnfv-summit/attend/registration. Members of the media who would like to reserve a complimentary press pass to OPNFV Summit should contactpr@opnfv.org.