The OPNFV community is comprised of a diverse set of active developers who are passionate about transforming the industry through open source NFV. This blog series highlights the people who are collaborating in the trenches to transform global networks through open source NFV.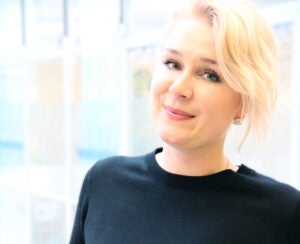 About Sofia Wallin
Sofia is currently working as an R&D Project Manager at Ericsson. As part of the Ericsson Cloud Systems and Technology organization, she is involved in driving open source engagements as well as internal strategies. She started at Ericsson in 2011, and before joining OPNFV, she was responsible for establishing the release handling process for the Ericsson Cloud System development organization.
How are you involved with OPNFV (e.g., specific projects or focus areas)?
I am the PTL for one of the projects, Opnfvdocs. The Opnfvdocs project is responsible for the user and community/platform documentation. Our main purpose is to provide the community with guidelines on how to document each release; this includes document structure and templates as well as tooling and branding, which ensures consistency across all OPNFV projects. Working with documentation gives you a broad understanding of the platform since it requires cooperation with pretty much all projects involved. It is a central and fun part of development that often gets a bit overlooked but is very important; it is the link between the product and its users.
What are you most proud of with the OPNFV Danube release?
During the Danube release we achieved a great goal migrating our documentation to the newly established, docs.opnfv.org.
We are using read the docs which is a community supported documentation host. Supporting various tools, read the docs allows the user to set up an environment that suits current standards. We didn't want the migration to affect how the projects work with their documentation and at the same time not compromise on quality, I'm happy with the outcome and this is a result of efforts from everyone involved in the migration.
As part of the cross-collaboration initiative for documentation, we are currently working together with ODL and FD.io to create a common way of publishing and branding our documentation, and this migration was a great achievement for OPNFV. By making the documentation accessible through its own top domain we are increasing the usability.
What's also new for Danube is that we use Google Analytics that enable us to track downloads. As a PTL, it is important for me to see what documentation is actually being read. If we are spending time documenting parts that no one is paying attention to we should perhaps rethink and spend more time on the parts that our users are reading and using.
What advice would you give to developers (or others) interested in joining the OPNFV community?
Be curious and don't be shy. It's scary to push your first commits for review before knowing how it will be received, but that is the whole point – to collaborate. You will never learn as much as you do when working within an open source project, and OPNFV is definitely not an exception. You will get to know people from all around the world, from different companies with different backgrounds, personalities, and competences. It's amazing!
What part of the world do you live in? Why there?
I was born and raised in Stockholm, Sweden….the capital of Scandinavia. It's a beautiful city with a lot of things to do and see. Rich architecture and history is everywhere. I'm blessed to live in the city center within walking distance to restaurants, museums, bars or whatever I'm up for.