The OPNFV community was out in full force during the Open Networking Summit in Santa Clara, CA earlier this month. With the announcement of our fourth platform release, OPNFV Danube, co-hosting a reception, holding a demo in the S3 booth—as well as several community presentations and tutorials—OPNFV was a critical part of the conversation around open source networking, and how the various open source networking projects and standards are coming together in the full networking stack. See below for highlights from this year's event.
Community Reception
Kicking things off Monday night, OPNFV co-hosted the Open Source Community Reception along with OpenDaylight, OpenStack, FD.io and ONAP. Guests enjoyed drinks and hors d'oeuvres at Levi's Stadium in the Yahoo! Fantasy Football Lounge. A big "thank you" to Serro, Juniper and Inocybe for sponsoring the event!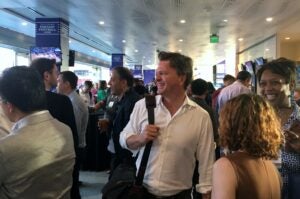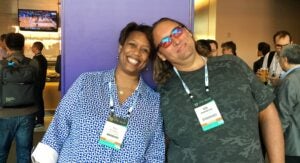 Tutorial: Getting Started with NFV Testing
OPNFV community members Trevor Cooper (Intel) and Jose Lausuch (Ericsson) presented a tutorial on "Getting Started with NFV Testing." As a key tenet of moving NFV from PoC to deployment, testing is crucial to ensuring a fully supported and integrated service provider network. They shared best practices for open source NFV testing, including: methodology; mapping to ETSI NFV use-case/s; open source project integration; testing dashboards; CI/CD; and testing acceleration. If you missed the session, slides are available here, and you can view the video of the tutorial on the OPNFV YouTube channel.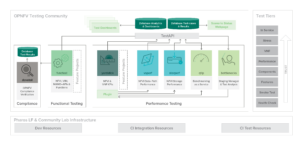 S3 Solutions Showcase: OPNFV Pharos LasS Demo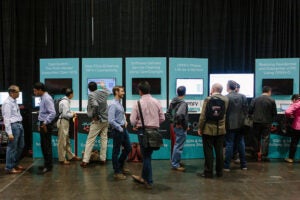 Big thanks to Jack Morgan (Intel), Jose Lausuch (Ericsson) and other community
members for manning the OPNFV demo in the S3 Solutions Showcase on the showfloor. We had a great turnout with lots of interest in our Community Pharos Labs-as-a-Service (LaaS), which showed attendees how to leverage the new OPNFV Pharos dashboard and LaaS to try out an OPNFV deployment on their own.  More information on Pharos is available on the OPNFV website here.

Exhibit Hall: Linux Foundation Projects Pavilion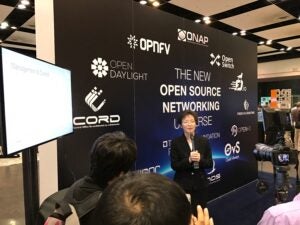 We co-hosted a space in the Exhibit Hall in conjunction with Linux Foundation sister projects FD.io, OpenDaylight, ONAP, PNDA, OpenSwitch, and others. Many of the projects—including OPNFV—gave informal presentations in the lounge, handed out swag, and made some new contacts. Thank you to Chris Price, Ritch Dusome, and Frank Brockners for presenting on behalf of OPNFV in the LF Projects Pavilion and to all the community members who spent time in the booth talking with folks about open source networking.
Presentation Highlights
Video: Heather Kirksey meets with TIA NOW
OPNFV's Heather Kirksey spoke with Abe Nejad of TIA NOW about OPNFV's integration of upstream open source projects such as OpenDaylight, OpenStack, and KVM and others into an open, carrier-grade NFV reference platform.
Check out our Community News page for OPNFV press coverage from the Danube release and our presence on site at the event, and if you aren't already, please follow us on Twitter (@OPNFV), Facebook, and LinkedIn for real-time project updates.
If you weren't able to catch us at ONS, we hope to see you at another upcoming event, like the Danube Plugfest, OpenStack Summit, the Big Communications Event, or our Summit in Beijing. And be sure to save the date for ONS 2018! The event will be held March 27–29, 2018 in Los Angeles, CA at the InterContinental Los Angeles Downtown.
Good-bye Santa Clara, hello LA!