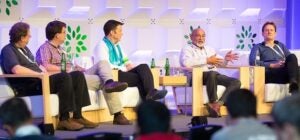 A Message from the Board of Directors' Chair
By Prodip Sen
As we begin 2017, OPNFV is now in its third year of existence. Where we are as a community is evident in the various metrics we use, to observe our health and progress. There are 294 code developers working on 50 approved projects including six automated testing projects; member companies host 16 operational OPNFV labs; and we have completed our third software release—Colorado. There are many other statistics we can look at—but I think these are enough to show that OPNFV is a healthy, productive and useful community that is here to stay.
2016 has been a year of transitions and beginnings.
From a strategic perspective, we have tried to ensure that the activities of OPNFV are aligned with the interests of the member companies, and more importantly the ultimate end users of what we produce—network operators, service providers and enterprise users. But we have done this in a way that preserves the true open source nature of our organization. The strategic planning activities in the OPNFV Board led to the creation of an open Working Group (Polestar), which concentrates on connecting end user requirements to the technical activities of OPNFV, on helping coordinate activities across OPNFV projects to support end-to-end use cases, and on helping upstream communities like OpenStack understand NFV requirements and needs.
The Board has also created an End User Advisory Group, formed by users who operate and deploy large telecommunications and enterprise networks from both member and non-member companies to help provide guidance and requirements. From a governance perspective, the Board and TSC have worked together to expand merit- and community-based participation in the TSC resulting in 5 new Committer-at-Large TSC members, furthering progress toward becoming a meritocracy-based organization.
That we have our fingers on the pulse of our industry is evident in how our community has responded naturally to industry calls for addressing service and operational issues. The Board expanded the scope of OPNFV, from its initial defined scope of the NFVI and the VIM—and the technical community responded by creating projects and working groups in the areas of MANO, testing, security and performance. Our experience in actually integrating software from several open source projects, conducting extensive testing, and creating our ONFV software releases has shown us that the NFV ecosystem needs more than just a reference platform; it also needs a set of tools and processes with which to use it. So we have clarified our goals to reflect that we develop both integrated software for NFV systems and a methodology for NFV.
When I look back at 2016, I can clearly see that this was the year that we began to mature as a community and an organization, and all aspects of our activities have contributed to this. I am looking forward to 2017 as the year where we capitalize on this maturity and accelerate the deployment and implementation of NFV in service provider networks, and support network transformation into the cloud.
The 2016 OPNFV Year In Review Report is now published and I encourage you to read the full report.
Prodip Sen
Chairman of the Board, OPNFV
CTO NFV
HPE Communications Solutions Business