OpenStack is one of the largest open source software projects in the world and provides open source software for creating private and public clouds. OpenStack software controls large pools of compute, storage, and networking resources throughout a datacenter, managed through a dashboard or via the OpenStack API.
OPNFV and OpenStack help organizations move away from proprietary networking. The combination of OpenStack and OPNFV allows users to tap into the most comprehensive set of NFV capabilities available today and remain on the leading edge of network development and innovation.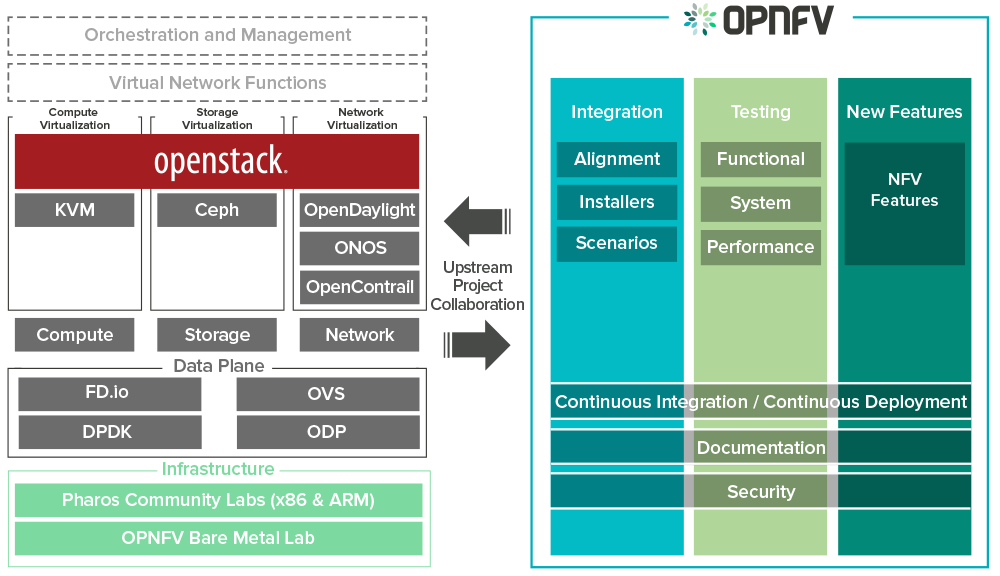 Within OPNFV, OpenStack provides the foundation for the NFV Infrastructure (NFVI) and Management and Orchestration (MANO) components of the ETSI NFV specification, offering common security, identity services, APIs, policies and user interfaces. OpenStack is also a critical upstream community for OPNFV and the two communities work closely together. Via OPNFV, network operators can submit their NFV requirements "upstream" in the form of blueprints and patches to existing OpenStack projects such as Neutron, Nova, Tacker, Telemetry/Ceilometer, or through new projects in the "big tent". OPNFV-requested features are continuously incorporated into and become available with the twice-per-year OpenStack release series or individual project releases, depending on the project.